On 25 March 2020, the CUHK Fintech Webinar gathered over 100 participants to explore the digital evolution of private markets and their importance for innovation-driven growth economies.
In this webinar,  Dr. Florian M. Spiegl stated how important private markets (with 6tn. USD of assets under management and 15000+ individual private market deals) are for the economy. It is still expanding mostly due to institutions looking to invest large cash reserves, the emergence of private wealth and family offices & significant capital demand in growing economies. However, private markets today are fraught with inefficiency, inaccessibility, and illiquidity. Fortunately, the digitization of real-world assets, a process in which the rights to an asset are converted into a digital token using distributed ledger technology, allows standardization in accelerating the exchange of value while also improving efficiency and security. Hence with the formation of a fluid digital market infrastructure, the private market economy can be propelled further with effective rules, structures and processes.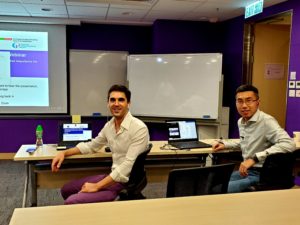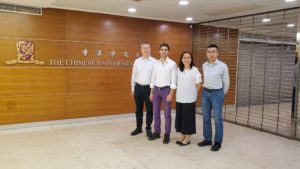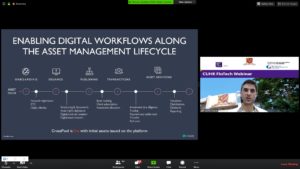 Learn More About Our Next Seminar In Fintech Series
Receive Seminar Invitation Right In Your Inbox
CONTACT US
Phone: (852) 3943 7438
Email: apib@cuhk.edu.hk
---
Introduction
Speaker : Dr. Florian M. Spiegl, Co-Founder & COO, FinFabrik
Date :   25 March 2020 (Wed)
Topic : The Digital Evolution of Private Markets and Their Importance for Innovation-Driven Growth Economies
Private market used to be very much reserved for wealthy individuals or venture capitalists. With the advancement in financial technology, more investors can now gain access to this market. How does the technological disruption bring forth changes to the entire habitat and open opportunities for new strategies such as impact investing? How does the market benefit from these changes?
BIOGRAPHY
Florian is an entrepreneur and innovator in financial services. He is the co-founder of FinFabrik, a Hong Kong-based fintech company changing how people invest in alternative assets by leveraging blockchain technology.

With his first company started as a student, Florian has seen failure and success as a founder indifferent sectors. In his corporate career at Credit Suisse and the Boston Consulting Group, he discovered the beauty of capital markets and their inner workings. Today, he operates at the intersection of these two worlds and aims to bring change to a traditional industry using applied new technologies. His curiosity centres around the fundamental drivers of change in a complex world and how to predict outcomes by applying political-economic theory.

Florian sits on the FinTech Advisory Board of the Securities and Futures Commission of Hong Kong and is a founding member of the Hong Kong FinTech Association where he chairs the AI Committee. He is an accredited lector at the Hong Kong Securities and Investment Institute and speaks regularly on topics that are re-shaping financial services. Florian holds a PhD in Political Sciences, University of Vienna.
---
FINTECH SERIES
The CUHK FinTech Seminar Series is co-organized by the Centre for Financial Engineering (CFE) and the Asia-Pacific Institute of Business (APIB). Industry practitioners are invited to campus to share their areas of expertise.  We see the advantage of bringing together the academia and industry experts, providing a platform to carry out fruitful and productive discussions, encourage the exchange of ideas and promote future collaboration opportunities.  CUHK students may also widen their exposure and receive some enlightenment in their career development.
Date
Details
Feb 20, 2019

(Wednesday)

Topic: Transforming the Way in Managing Operational Risks in a Global Financial Organization
Speaker: Mr Raymond Cheng, Chief Operating Officer, Asia Pacific, HSBC
March 20, 2019 (Wednesday)
Topic: Fintech: Something New Under the Sun?
Speaker: Mr. Nelson Chow, Chief Fintech Officer, Hong Kong Monetary Authority
Event Highlights
April 17, 2019 (Wednesday)

Topic: Inhouse Fintech Incubator – StartupXchange
Speaker: Mr. Matthew Ng, Senior Vice President, DBS HK & Mainland China

May 27, 2019 (Monday)

Topic: Digital Disruption in Financial Services
Speaker: Mr. Peter Clark, Regional Chief Information Officer, Standard Chartered Bank

Sep 12, 2019 (Thursday)

Topic: Incumbent Banks vs Virtual Banks
Speaker: Mr Raymond Cheng, Group GM & Chief Operating Officer, Asia Pacific, HSBC

Sep 19, 2019 (Thursday)

Topic: InsurTech
Speaker: Mr. Erwin Chak, Senior Manager Policy & Development, Insurance Authority

Oct 24, 2019 (Thursday)
Topic: FinTech Engagement from Strategy and Corporate Development Perspectives
Speaker: Mr. Gilbert Lee, Head of Strategy & Planning & Chief of Staff, Hang Seng Bank
Jan 14, 2020 (Tuesday)
Topic: Virtual Banking – a FinTech's Perspective
Speaker: Mr. Ken Lo, Founding member of ZhongAn Virtual Finance Ltd.
Mar 25, 2020 (Wednesday)
Topic: The Digital Evolution Of Private Markets And Their Importance For Innovation-Driven Growth Economies
Speaker: Dr. Florian M. Spiegl, Co-Founder & COO, FinFabrik
May 6, 2020 (Wednesday)
Topic: Cyber Identity and Digital Assets in a Roller Coaster Market

Speaker: Ms. Frankie TAM, International Technology Lawyer