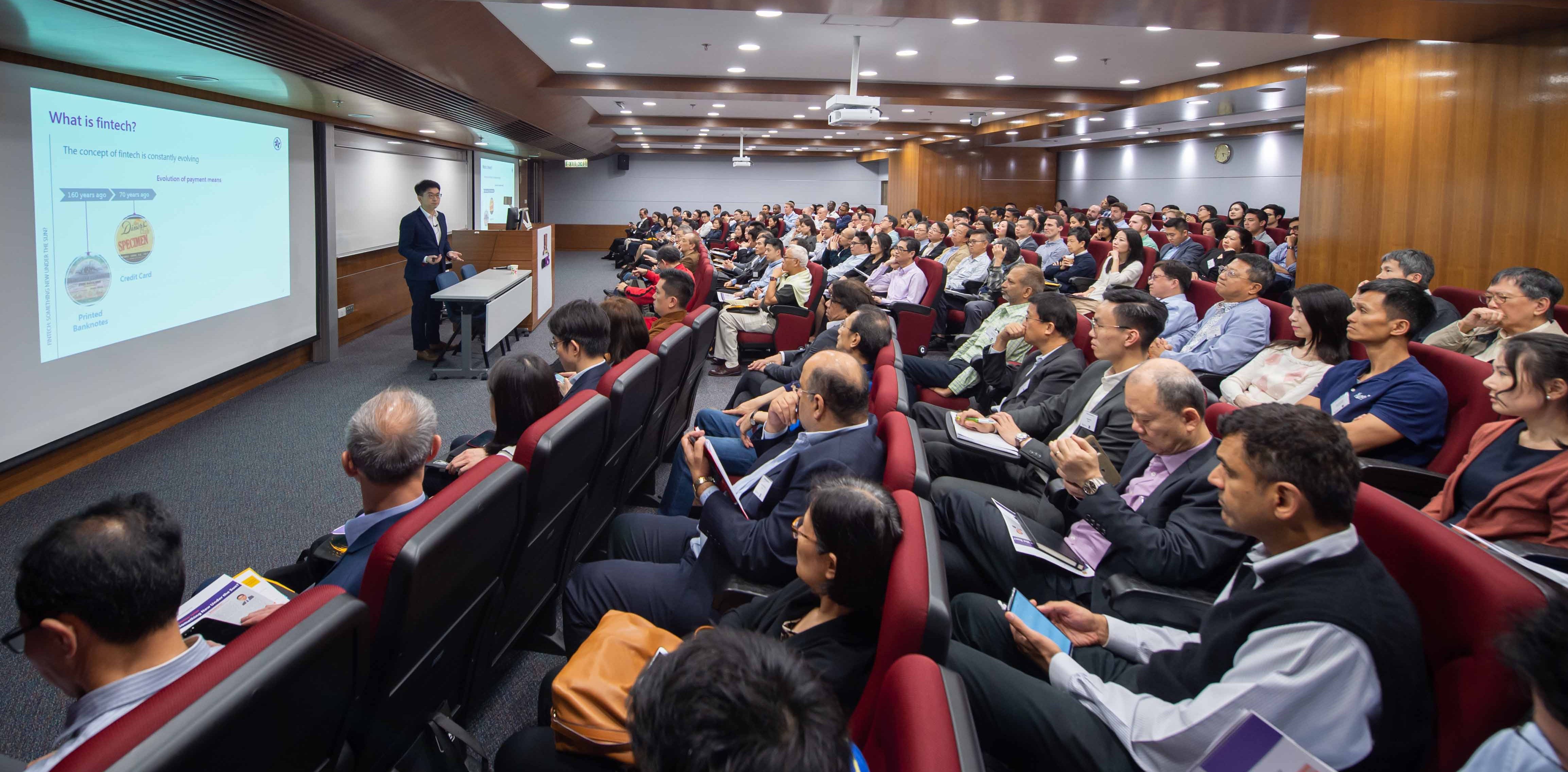 Fintech: Something New Under the Sun?
On 20 March 2019, the CUHK Fintech seminar : "Fintech: Something New Under the Sun?"  gathered over 130 participants to explore what Fintech is and its implications to the financial services industry.
Mr. Nelson Chow, Chief Fintech Officer of the HKMA, kicked-started the talk by discussing the evolution and emergence of technology in the world. Dynamic changes have been observed in the market, with a growing trend of technology involvement in businesses. He then shared his views about the future development of Fintech in Hong Kong.
Nelson went on to explain the HKMA's stance on Fintech. The HKMA adopts a risk-based and technology-neutral approach in its supervision and puts in great effort in striking a right balance between retaining appropriate flexibility for innovations and ensuring that customer interests are properly safeguarded during the course of fintech development.
To enable this, the HKMA has launched a number of initiatives to promote Hong Kong as a Fintech hub in Asia. Two key initiatives are talent development and cross-border collaboration. Nelson believed nurturing talents to meet the growing needs of the Fintech industry in Hong Kong is the key to a sustainable fintech ecosystem. Hong Kong could also take advantage of the rapid fintech development in neighbouring regions.
In today's dynamic business environment, changes in banking operations are required to cater for the latest market needs. To bring new opportunities to the retail payment industry and promote greater convenience and experience to the public, the HKMA launched the Faster Payment System in September 2018 as a core part of Hong Kong's financial infrastructure. It has been well received by the public, as seen from the fact that the total number of registrations and transactions have surged to record high in the past few months. The HKMA will keep up the hard work in bringing the fintech initiatives from paper to reality, crafting a new era of Smart Banking.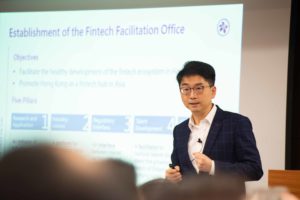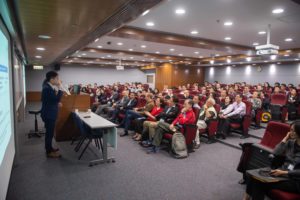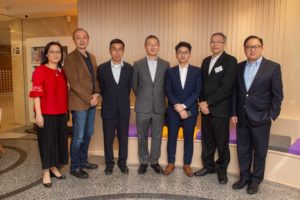 Learn More About Our Next Seminar In Fintech Series
Receive Seminar Invitation Right In Your Inbox
---
INTRODUCTION
Date :   20 March 2019 (Wed)

Time :  5:00  -  6:15 p.m.

Fintech is a constantly evolving concept symbolized by different technologies at various points in time.  In recent years, the accelerated growth of underlying technologies like artificial intelligence, blockchain, cloud computing and big data have spurred a range of new Fintech applications, raising questions on whether the "fourth industrial revolution" is approaching.  Mr. Nelson Chow, Chief Fintech Officer from Hong Kong Monetary Authority (HKMA) will share with the audiences what Fintech is and its implications to the financial services industry.  The seminar would also cover recent developments of Fintech in Hong Kong, as well as the role of the HKMA in facilitating Fintech development. 

Contact Us

Phone: (852) 3943 7438
Email: apib@cuhk.edu.hk
---
BIOGRAPHY
Mr. Nelson Chow has been appointed as Chief Fintech Officer, Fintech Facilitation Office of HKMA since September 2016 with responsibilities for facilitating the healthy development of the Fintech ecosystem in Hong Kong and promoting Hong Kong as a Fintech hub in Asia. Mr. Chow joined the HKMA in 2004 and was responsible for the supervision of banks' technology risk management and business continuity planning as well as the formulation of related policies and guidelines. He was the Deputy Chief Representative of the New York Office in 2010. After returning to Hong Kong in 2013, he took up responsibilities to supervise banks' operational risk management and perform macro-prudential data analysis.

Prior to joining the HKMA, Mr Chow was a Vice President of JPMorgan Chase Bank, N.A. responsible for information risk management of the Asia Pacific region. He holds a Bachelor of Science degree from the University of Auckland and a Master of Science degree from the Hong Kong University of Science and Technology.



---
FINTECH SERIES
The CUHK FinTech Seminar Series is co-organized by the Centre for Financial Engineering (CFE) and the Asia-Pacific Institute of Business (APIB). Industry practitioners are invited to campus to share their areas of expertise.  We see the advantage of bringing together the academia and industry experts, providing a platform to carry out fruitful and productive discussions, encourage the exchange of ideas and promote future collaboration opportunities.  CUHK students may also widen their exposure and receive some enlightenment in their career development.
Date
Details
Feb 20, 2019

(Wednesday)

Topic: Transforming the Way in Managing Operational Risks in a Global Financial Organization
Speaker: Mr Raymond Cheng, Chief Operating Officer, Asia Pacific, HSBC
March 20, 2019 (Wednesday)
Topic: Fintech: Something New Under the Sun?
Speaker: Mr. Nelson Chow, Chief Fintech Officer of Hong Kong Monetary Authority,
April 17, 2019 (Wednesday)

Inhouse Fintech Incubator – StartupXchange
Speaker: Mr. Matthew Ng, Senior Vice President, DBS HK & Mainland China

June, 2019

Topic: Virtual Banking – An Incumbent Bank's Perspective
Speaker: Mr. Peter Clark, Regional Chief Information Officer, Standard Chartered Bank
金融科技: 太陽底下的新鮮事?
日期 :   2019年3月20日(星期三)
時間 :  下午5:00 – 6:15 (下午4:45開始登記入座)
地點 :  香港中文大學市區教學中心
主講嘉賓 : 周文正先生 香港金融管理局金融科技促進辦公室 金融科技總監
語言 :  英語
金融科技是一個不斷發展的概念,在不同的時間點由不同的技術所組成。 近年來,人工智能,區塊鏈,雲計算和大數據等基礎技術的加速增長刺激了一系列新的金融科技應用,引發了對"第四次工業革命"即將到來的質疑。香港金融管理局金融科技促進辦公室 金融科技總監周文正先生將分享金融科技及其對金融服務業的影響。 研討會亦會涵蓋香港金融科技近期的發展,以及金管局在推動金融科技發展方面的角色。
查詢
電話: (852) 3943 7438
電郵: apib@cuhk.edu.hk
金融科技: 太阳底下的新鲜事?
日期 :   2019年3月20日(星期三)
时间 :  下午5:00 – 6:15 (下午4:45开始登记入座)
地点 :  香港中文大学市区教学中心
主讲嘉宾 : 周文正先生 香港金融管理局金融科技促进办公室 金融科技总监
语言 :  英语
金融科技是一个不断发展的概念,在不同的时间点由不同的技术所组成。近年来,人工智能,区块链,云计算和大数据等基础技术的加速增长刺激了一系列新的金融科技应用,引发了对"第四次工业革命"即将到来的质疑。香港金融管理局金融科技促进办公室 金融科技总监周文正先生将分享金融科技及其对金融服务业的影响。研讨会亦会涵盖香港金融科技近期的发展,以及金管局在推动金融科技发展方面的角色。

查询
电话: (852) 3943 7438
电邮: apib@cuhk.edu.hk